Projects executed in 2021
Square meters of showroom area
Square meters refurbished in 2021
WELCOME TO HERZOG BAU GMBH
We refurbish private houses in and around Erlangen, Herzogenaurach, Fuerth and Forchheim - individually and turn key - as a single point of contact
Therefore, we at Herzog Bau newly define refurbishing of your home - we do our works as simple as possible for you. As we believe simplicity is the ultimate sophistication.
Your wishes are our scale
You refurbish your home only once in your life, thus you wish your expectations to be fulfilled. We refurbish houses every day. The synergy of your individual wishes and our technical know-how are the individual solution for you.
We don't need to speak about quality.
We execute every construction project as it was our own home.
Humanity and fairness are important to us. We are working with you, not against you.
We try our utmost to satisfy your expectations, we give impulses and check your wishes technically and realize them.
Throughout the whole project duration and after that, only one person will be your point of contact for all services.
Higher living comfort in all rooms and outdoors (including conversions and extensions)
Ecological and low-emission renovations
Replacement of existing building materials (where possible) with "clean" certified building materials
Thermal insulation, replacement of windows, installation of air heat pumps and photovoltaics up to the passive house
Passage and door widening, flat thresholds, ramps, stair and vertical lifts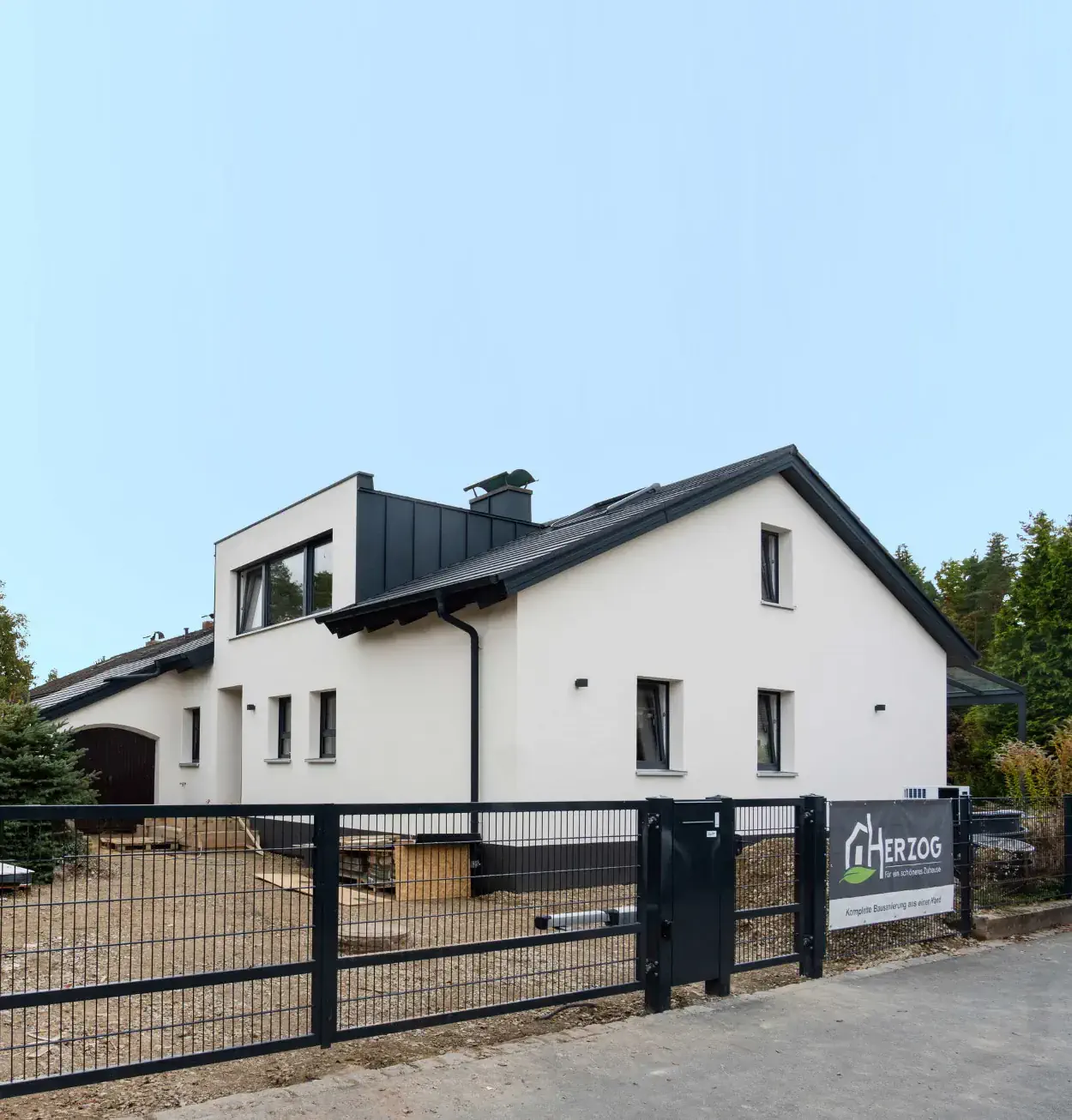 The Herzog Bau Showroom in Erlangen
Right in Erlangen's old town. Own parking spaces.
Barrier-free access and facilities. Inspirations on 400m².
3D visualization of your construction project
Preserve the aesthetics of the past - and still live modern and comfortable
A contribution to climate protection
The renovation of an old building requires significantly fewer resources than a new building! 
Equal to the new building
An aesthetically and energetically renovated building is equivalent to a new building.
Continuation permits have advantages
Old buildings are often right on the property boundaries, and thus offer more living space than a new building in the same place.
Those who renovate their old building can benefit from considerable subsidies and grants. 
Concrete, masonry and dry construction
Demolitions, extensions, conversions, masonry renovation, basement waterproofing
Carpentry and roofing work
Dormers, bay windows, roof terraces, roof trusses, roof insulation and roof coverings
Full thermal insulation (ETICS), facades, interior plaster, painting and wallpapering work
Heating and plumbing work (*)
Various heating and ventilation systems, plumbing, thermal installations
Screed work, vinyl, carpet and parquet floors, slabs and tiles
(Security) windows, front doors, interior doors, stairs, ramps and lifts
Electrical installations, smart home, telephone and network technology, photovoltaic systems
Gardening and landscaping
Green areas, fencing, sidewalks, carports and parking lots
(*) will be executed by our service partners
Herzog Bau handed over our property in record time. Absolutely on time and on price - billing 1:1 as in the offer, again at any time. Also great team, our compliments.
Nice, friendly and competent construction company in Erlangen, who don't promise the moon, but make everything possible that is possible. Anyone feels very well looked after here and competently advised.
Positive: value for money, professionalism, quality, responsiveness to requests Very competent company in the field of renovation and building refurbishment. Absolute recommendation - punctual, reliable, friendly, clean work, motivated craftsmen, fast work - very good service, can only recommend this company and would hire Herzog Bau GmbH Erlangen again immediately.
We are very satisfied with the planning and consultation of our building renovation. Punctual and clean work. Thanks again to the whole team
Friendly and competent. The building conversions were carried out as we had imagined.
Very well structured, humane and fair. All contacts are very friendly and technically competent. You can feel the passion to implement small and large projects and clearly notice that experienced professionals are at work here. Herr Herzog always has an open ear for his customers. top company.